Back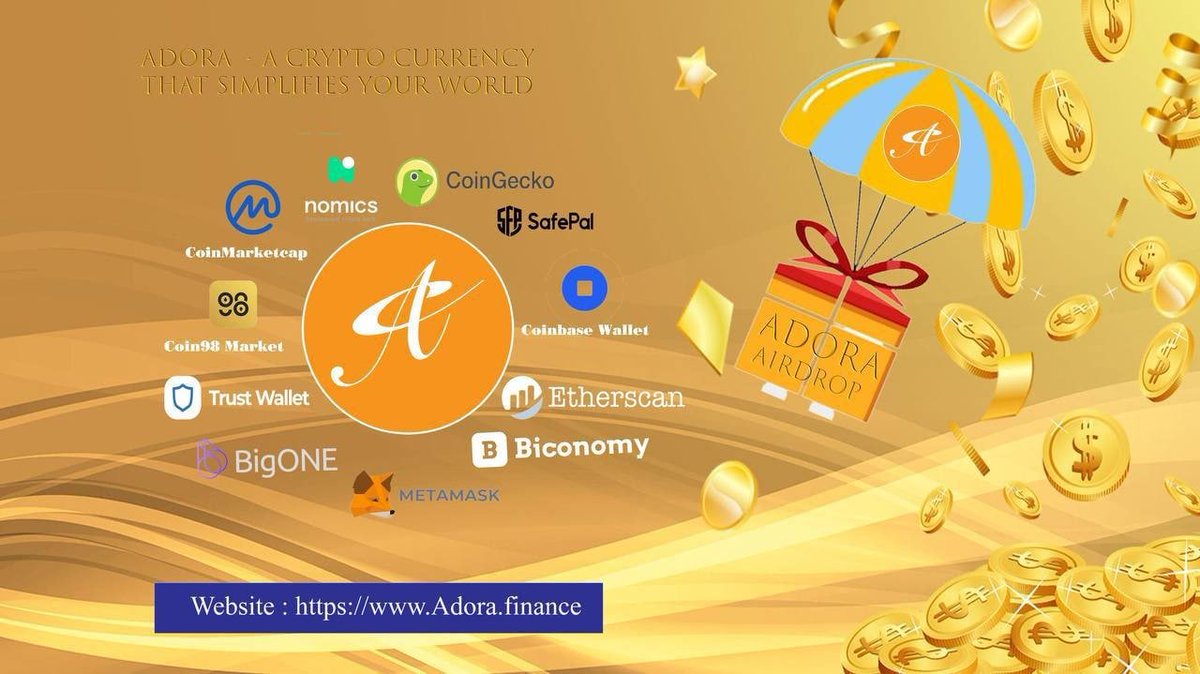 Adora Airdrop
Date Modified: 22/9/2021
🚀 Airdrop: Adora
💰 Value: $ 25 worth $ARA
👥 Referral: $ 100 worth $ARA
📊 Adora (ARA) listed on more Exchanges:
- CoinmarketCap : https://coinmarketcap.com/currencies/adora-token
- CoinGecko : https://www.coingecko.com/en/coins/adora-token
- Bigone exchange : https://big.one/en/trade/ARA-USDT
- Biconomy exchange : https://biconomy.com/exchange?coin=ARA_USDT
- Nomics : https://nomics.com/assets/ara3-adora-token
📅 End Date: 25 November, 2021
🏦 Distribution Date: 30 November, 2021
Talk with the Telegram Bot
📖 Step-by-step guide:
🔹 Join our Telegram group : https://t.me/AdoraCommunitygroup
🔹 Join our Telegram channel : https://t.me/AdoraChannel
🔹 Follow our Twitter : https://twitter.com/adoraFinance
🔹 Submit ERC-20 Wallet address (Coinbase wallet, Trust wallet, MetaMask Wallet, SafePal wallet)
📃 Information
ADORA is a group of projects where we will run travel agencies, real estate agents, healthcare services, and more. These projects enhance the core functionality of Adora Coin (ARA), designed for usability and speed.
You can not only hold but also trade, swap, staking, lending Adora Coin on many exchanges and the most important thing is that you can use Adora Coin as a payment on our ecosystem and our merchants. From buying coffee to booking a package tour to buying real estate, Adora makes your life so much simpler.
Adora Coin aims to be near-instant, very low fees or feeless cryptocurrency with advanced technology, high security, and environmentally friendly.
📃 VISION
Our vision is to become a popular and friendly cryptocurrency that provides advanced ledger with high security for everyday use for all users. Adora Coin itself plays a very important role in our ecosystem landscape, the backbone to sustainability and growth. Through Adora Coin and its ecosystem, we offer users the benefit from the unforgettable experience of digital money in their everyday lives.
📢 Note:
💎 Winners: 200 random winners ($25 worth $ARA each)
💎 Top 10 referral : $100 worth ARA each
Disclaimer: Please do your own research before joining to any airdrops project, also airdrop is 100% free. Don't send any fee or penny for receiving airdrop tokens. Just join airdrop for free.